Nursing Week: meet our teams
|Nursing week
In Quebec, May is a month of celebration for both spring… and our care professionals! At Le Groupe Maurice, we take this opportunity to express our gratitude to them and acknowledge their crucial role in promoting the well-being of residents and helping them age with dignity. As such, to celebrate nursing week, we would like to introduce you to three members of our care team and give you a glimpse into their roles and motivations. Enjoy reading!
MARIE-CHRISTINE TOUSSAINT- Director of Nursing Care, Vent de l'Ouest Residence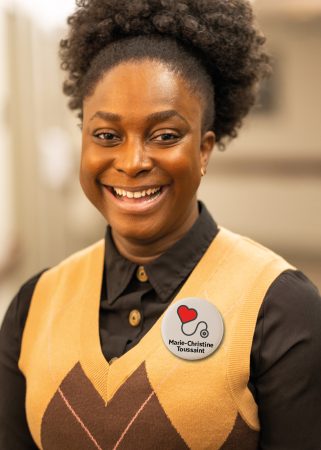 Marie-Christine, who has a background in the public hospital sector, has successfully completed various duties related to emergency and rehabilitation over the years. She now holds a broader role that better aligns with her expectations and her personality. Marie-Christin joined Le Groupe Maurice three years ago as a coordinator and was promoted to Director of Nursing Care just nine months after her hiring. She loves her job, particularly because she gets to work closely with her team.
Marie-Christine, can you tell us what you do at Vent de l'Ouest?
Gladly! I'm responsible for clinical activities at the Signature Care Unit, which welcomes people with loss of autonomy. I have various roles to play and I enjoy all of them. Before residents are admitted, I must assess their level of autonomy and evaluate their requirements. What do we need to offer them? Meals, housekeeping, hygiene care and help with getting dressed are among our usual services. I carefully ensure that residents have access to everything they require and that they live in a stimulating environment.
Teaching is also at the heart of my duties. In fact, I do prevention work concerning various viruses and diseases that can be contracted in our environment. I also take care of personnel management, administration, equipment purchasing, some recruitment tasks and even adapting resident activities to their health status. It's a much more holistic job than my previous one, and I find it much more fulfilling!
What motivates you in your role?
I would say it's that my clinical nursing skills are being put to use and are valued, which was not the case in my previous workplace. On top of that, I'm also gaining knowledge in management and collaborating with various experts. I enjoy working professionally with a team of people and addressing issues with a reflective approach. I find it stimulates my intellectual growth!
What is your relationship with seniors in general, or with the residents of Vent de l'Ouest?
I consider myself a facilitator. It's not easy for people to leave their homes, change their routines and abandon familiar surroundings. I want this change to be as smooth as possible for them. So, if they used to have tea every morning at home, I make sure they still have it at the residence. I love the elderly and I want them to feel comfortable. It's a similar situation for their children. They have to accept that their parents are no longer themselves in terms of their health and independence. I therefore make every effort to ensure that parents and children alike make this transition without apprehension and with joy.
What qualities do you think the residents and your colleagues see in you?
I think the residents find me attentive and my colleagues see me as being accommodating. It's quite simple really: I focus on solutions… and to find the best ones, I have to listen to everyone and what they're asking for. The people around me are valuable resources, human beings whom I hope to help as often as possible! I recognize their qualities and the importance of their work.
What are the advantages of working in 'care' at Le Groupe Maurice?
I find the company to be dedicated to its employees; it provides us with support whenever we need it. If there's ever an issue that I'm unsure of or if I have a question, there is always someone available to assist me. I never feel helpless… I feel listened to. Le Groupe Maurice trusts its employees, and that creates a positive work environment.
Do you have a special memory or anecdote to share while working at your residence?
Sure! Every month, we prepare a special birthday dinner for residents celebrating their birthday. Last year, one of these famous dinners had a Japanese theme. Kimono-clad performers came and danced, bringing joy to the residents – some of whom even danced with them! The atmosphere was festive and the interaction was so positive. I'll always remember the joy that was in the air.
What words do you think best characterize Le Groupe Maurice?
Several words come to mind, but if I had to make a choice, I would say: their human-centered approach that's focused on residents, their concern for providing a stimulating living environment, and their emphasis on safety.
MICHELLE ARCHAMBAULT – Resident Attendant, Floréa Residence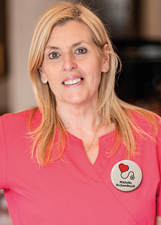 Michelle wouldn't choose any other job than being a resident attendant. It's the profession where she can show her affection for the elderly, her zest for life and her passion for building real connections. Previously a secretary in a church and then in a funeral home, she draws a connection between her past and present roles by stating that she interacted mostly with older adults and always had a sincere interest in listening to and comforting them.
Michelle, can you tell us what you do at Floréa?
I mainly take care of the residents. My role is to accompany them and provide them with daily personal hygiene care, which builds an important bond of trust with them. I also offer them comfort, support and encouragement. As resident attendants, we must show kindness, attentiveness and patience. I must always ensure that our residents can maintain their integrity and dignity. I gently persuade the more hesitant ones of the importance of daily care, by creating this essential bond of trust. I look after our residents as if they were my own mother, and often chat and joke with them. I take the time for human tenderness.
What motivates you in your role?
Becoming a resident attendant has always been my dream. I made it a reality during the pandemic by completing my PAB training to become a beneficiary attendant. My primary goal was to take care of the elderly. However, the environment of CHSLDs – long-term care facilities –  didn't meet my professional expectations. So, I turned to Le Groupe Maurice, where I am thrilled! The role I have here is a daily motivator. I spend my time with seniors whose life stories I cherish. Their memories and happiness in my presence are never ending sources of motivation for me.
What is your relationship with seniors in general, or with the residents of Floréa?
Well, at the risk of repeating myself, the elderly are probably the people I get along with the best. I find it easy to talk to them, and they feel the same way about me. I don't know why, but seniors always stop me to have a chat; which is great, since I adore speaking with them! 
What qualities do you think the residents and your colleagues see in you?
It's funny. The residents say that I'm like their mom, even though I'm quite younger than they are. It must be my maternal instincts – or maybe it's my 'loving' instincts that stand out! Attentive, compassionate, affectionate, joyful and giggly are terms they use to describe me. As for my colleagues, they find me cheerful, energetic, involved and available. I must admit, I see myself in that light, too.
What are the advantages of working in 'care' at Le Groupe Maurice?
Based on my previous experience, I can confirm that the quality of care at Le Groupe Maurice is exceptional! I have the time and opportunity to share meaningful moments with the residents, which I consider a significant advantage. The closeness I feel with both the residents and my colleagues is not something you often find, and I feel grateful to have it! The team also makes all the difference. We're like a family. It's pure happiness!
Do you have a special memory or anecdote to share while working at your residence?
One day, I won on "La Poule aux œufs d'or", a popular Quebec game show. I informed the residents that I would be appearing on TV the following Sunday. They were concerned that I'd won enough money to no longer have to work and that I would leave my job. To reassure them, I gathered everyone in the lounge to watch the show together. It became the event of the century for them! Their eyes sparkled and they spoke about it for a long time. It deeply touched me and reminded me that I truly belonged among them.
What words do you think best characterize Le Groupe Maurice?
Ensuring the residents' well-being is of utmost importance to me, and I can confidently say that Le Groupe Maurice shares this value. Entertainment is also a key aspect that comes to mind. And I cannot overstate the importance of the close relationships and trust that I hold dear.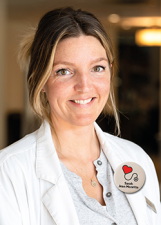 Sarah has been an auxiliary nurse at Le Groupe Maurice for four years and never needs convincing to go to work each morning. Her personal mission of helping people has become her profession – and it brings her great pleasure! Interacting with a diverse group of people including residents, colleagues, doctors, paramedics, family members and others, she is constantly learning, which inspires her greatly.
Sarah, can you tell us what you do at Le Cavalier?
As an auxiliary nurse, my main role is to contribute to the assessment of our residents' health needs, provide them with assistance and promote their autonomy. I must be proactive and have good judgment in emergency situations to ensure prompt care. Health data collection is necessary for accurate evaluation, which will then be followed-up by a nurse. I work closely with CLSC workers, emergency services, pharmacists and Le Cavalier's physician. The Groupe Maurice policies and procedures are clear and well-established, which means that I'm perfectly equipped to fulfill my role within the residence.
What motivates you in your role?
I truly feel like I'm making a difference and being useful. What I appreciate most of all is the recognition I get from the residents. They often thank us, write us cards and even remember our birthdays. It's really touching. It's also personally satisfying to help residents prevent illnesses and, above all, keep them healthy! I always take pleasure in getting to know our residents better.
What is your relationship with seniors in general, or with the residents of Le Cavalier?
Well, I choose to be with these individuals. Not only do I find it easy to connect with elderly people, but I also find them incredibly interesting. When I'm in their company, things just flow naturally. I wanted to work with seniors, and now I do. I'm thrilled about it! I'm also very close with my 93-year-old paternal grandmother, who still lives at home. Her curiosity and open-mindedness have always fascinated me.
What qualities do you think the residents and your colleagues see in you?
I've frequently heard my coworkers describe me as being highly dedicated, with an obvious passion for my job – and I would have to agree. The residents trust me and appreciate that I'm attentive, available and friendly. It's hard not to be when I'm with them every day!
What are the advantages of working in 'care' at Le Groupe Maurice?
It may seem obvious, but when I leave work, I know that my residents are in safe hands. It's a considerable advantage, having that peace of mind. We work in a pleasant environment where employees help each other out and residents do the same. Le Cavalier is a place where solidarity is constantly felt, and I'd also add, that it gave me a chance! You see, when I was first hired by Le Groupe Maurice, I had just finished my nursing studies and had no prior experience.
Do you have a special memory or anecdote to share while working at your residence?
There's a resident I see quite often who is now 100 years old! A few weeks ago, she approached me, took my hand and confided in complete sincerity: "I don't know what I would do if you weren't here." It's beyond encouraging to hear such a thing and it's reinforced my professional choice and literally brought tears of joy to my eyes.
What words do you think best characterize Le Groupe Maurice?
At Le Groupe Maurice, I feel like I'm part of a big family. They truly embody this term in my opinion. With a strong emphasis on mutual support on a daily basis, I think "family" is the perfect way to describe it. The company favours cooperation at all times, which I and many others truly appreciate!
Le Groupe Maurice wishes to acknowledge the unwavering dedication of its care staff. A huge 'thank you!' for your invaluable presence with us day after day.