Le Groupe Maurice returns to the Just For Laughs festival!
|Events
Once again, this year, Le Groupe Maurice is teaming up with the Just For Laughs festival in Montreal to carry on its fight against ageism through its special "Senior of Tomorrow" photo booth. Interested in seeing a preview of what you'll look like in a few years…? 
Laughter is pure happiness!
Every summer, the Just For Laughs festival brings together thousands of people to enjoy comedy performances and shows. As a sponsor of the event for the past 4 years, Le Groupe Maurice takes this opportunity to reaffirm its commitment to healthy ageing and raising awareness about ageism in an increasingly playful manner.
Like last year, a booth bearing Le Groupe Maurice colours will be on-site at the Quartier des Spectacles for the entire nine-day event. Festival-goers will once again be invited to have their pictures taken there, receiving an aged portrait of themselves alongside their current photo.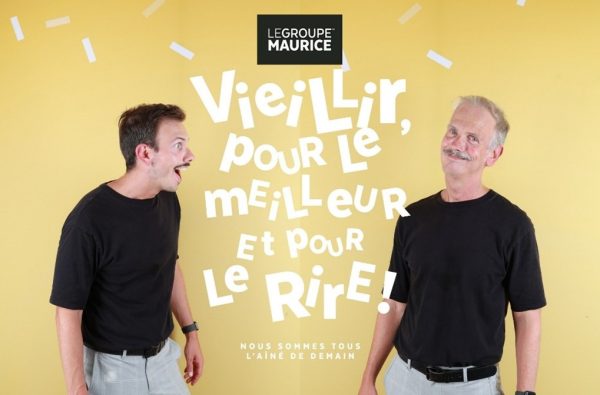 The purpose of this humorous concept is to popularize ageing by making people realize that this stage of life is everyone's concern. Discovering one's aged face can be surprising and lead to an awakening of sorts. Participants will have the opportunity to reflect on the role of the elderly in society and perhaps even commit themselves to the fight against ageism.
Subsequently, participants will be able to share their photo on social media with the hashtag #IAmASeniorOfTomorrow. In fact, for each post, The Luc Maurice Foundation will donate $2 to an organization working with seniors, up to a maximum of $25,000.
It's no joke if you miss this!
You'll be delighted to know that two well-known Quebec personalities, beloved by the public, will be stopping by the Le Groupe Maurice booth to join in the fun and have their photos taken. The details of their visit will be announced on Le Groupe Maurice's social media platforms. Keep your eyes peeled!
While you eagerly await the Just For Laughs festival from July 20th to 29th, don't hesitate to visit the IAmASeniorOfTomorrow page to learn more about ageism and how to actively fight against this insidious form of discrimination!